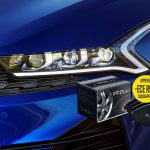 Product range
More than 541 articles of disc brake pads, brake shoes and brake discs

for more 2700 models vehicles
made in Europe, Asia, America and Japan
43 articles of brake discs
INTELLI
DAFMI uses
save disc
technology
noise free
"DAFMI" renewed the certificate for its products in Ukraine. In accordance with European integration plans, the auto parts certification system…
Since December 2021, the DAFMI enterprise has been introducing an alternative coating for drum brake shoes – lacquer instead of…
DAFMI – 30th Anniversary! On January 31, 2021, DAFMI celebrates its 30th anniversary !!! All these years the enterprise has…
The DAFMI company was established in 1991 by the Yuzhmash machine-building plant and an investor from Australia. The name of the enterprise DAFMI (Dnepropetrovsk-Australia-Friction-Materials-Industri) determined the direction of the business – the development and production of elements of brake systems, this specialization continues to this day.
The combination of a high level of production and advanced technologies allowed the company to become the No. 1 manufacturer in the segment of asbestos-free brake pads. Today the enterprise "DAFMI", Dnipro, Ukraine, is one of the leaders in Ukraine and neighboring countries in the production of brake system elements.
The assortment includes more than 540 articles of brake pads, brake shoes, brake discs and drums. The available capacities of the plant allow to produce about 7 million pieces per year. The products are sold under their own brands DAFMI SM, INTELLI and DTC and packaged for various privat-label projects.
There are used original technologies SAVE DISC TECHNOLOGY and NOISE FREE in the production of brake pads. Modern equipment is used – a European complex for preparing mixtures and pressing brake pads, as well as powder coating and inkjet marking lines.
All products are manufactured under the control of the product quality management system, which is annually certified for compliance with the requirements of the international standard ISO 9001:2015. All products are certified in Ukraine and the Russian Federation, part of the range has European R90 certificates issued by the Automotive Institute PIMOT (Warsaw, Poland). The enterprise has its own laboratory with a full-scale dynamometer, which allows for a thorough supervision of the manufactured products and for the development of its own friction mixtures.
The products of the plant are flawlessly operated in any climatic conditions and under any load, therefore they are in demand among a wide range of consumers. The DAFMI brand is known for its many years of experience, high technology, highly qualified staff and long-term relationships with customers. The company is able to meet any customer needs and provide them with excellent service.
Be with us! Be with the leader!